What is in common of Winston Churchill, Clint Eastwood, Britney Spears, and Dalai Lama? They all have Famous Birds, Budgies. Let's talk about Celebrity Who Loves Budgies.
What was Winston Churchill's favorite pet?
Sir Winston Leonard Spencer Churchill was a British statesman, author, and soldier and he also served as Prime Minister of the United Kingdom.
In addition to all these occupations, he was an excellent budgerigar trainer. A remarkable collection of family heirlooms shows us that he was a very talented man who had the ability and gift to teach tricks to his pet bird.
Because of her immense love for her father, Churchill's daughter, Lady Soames, has preserved a large collection of his belongings to preserve them for remembrance and to preserve them from oblivion. After her death, all the things that were in her possession were put up for auction. The money was shared by her five children and twelve grandchildren.
What Churchill taught his pet budgie?
Among the items put up for auction were four silver salt cellars with small spoons. His budgie taught him to carry those four spoons as he flew around the dining room table.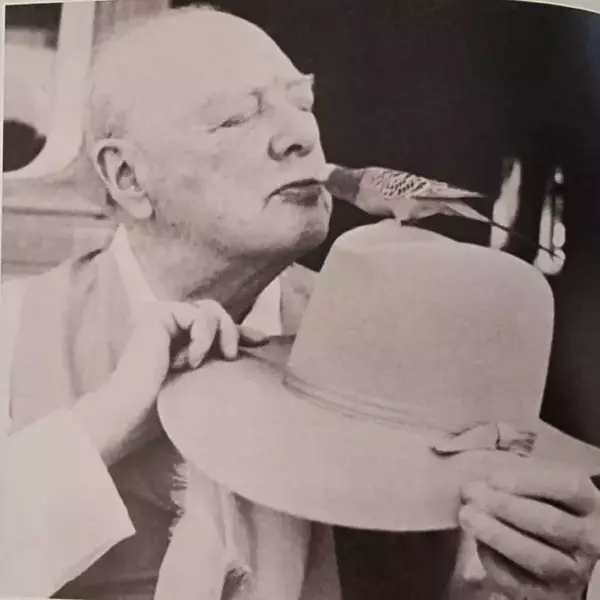 Winston Churchill's Pet Budgerigar Toby
The name of his very dear pet was Toby. Churchill said the tricks his budgie pet Toby performed during lunch were a favorite because they entertained his beloved grandchildren.
His close people said that his pet Toby was not only an entertainer at their dining table during lunch, but that he represented much more for Churchill. Toby slept in a special place in his bedroom in a specifically crafted cage. That was during his peace-time premiership in the 1950s.
Anthony Montague Browne, Churchill's Private Secretary said Toby flew to Churchill's office when some of the most famous and distinguished people were in it. Budgie flew around the room in complete freedom, pecking at the papers from the office on Churchill's desk, sipping his whiskey and mineral water at the nightstand, and leaning on the Chancellor of the Exchequer's head with no regard for the obvious consequences.
Rab Butler, a prominent British Conservative politician, came to Churchill's meetings with a special silk handkerchief he used to wipe budgie Toby, saying these were all things he did for his beloved England.
Mr. Winston Churchill would sit on his bed, with an unlit cigarette hanging from his lips, while a beautiful little blue-green bird would sit on his head. Usually, then, Churchill would dictate important things to his secretary. Toby knew the greatest state secrets, but at the same time, he was their faithful guardian. In a letter he wrote to his wife Clementine on August 8, 1955, Churchill wrote that Toby helped him write this love letter, mentioning that what had already been written was written by Toby with his beak.
Budgie was given to Churchill by his son-in-law called Christopher Soames.
Toby traveled everywhere with Churchill. He stayed in a luxury villa built for Coco Channel. He bathed in rose water in a special silver vessel. Not even Churchill's closest acquaintances had such treatment.
Also, the pet flew to the most expensive hotels in Monte Carlo and was a visitor to the largest casinos. Toby sailed with Churchill on a 100-meter-long superyacht called Christina O, which belonged to one of the most famous ship magnates, Aristotle Onassis.
Budgies are very smart birds that can easily learn many things, from words to commands given by their owners.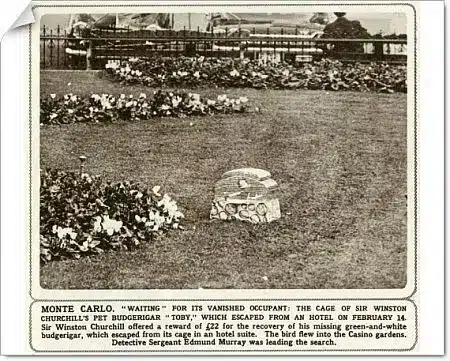 The nurse cared for Budgie Toby in Churchill's final years
The nurse, Muriel Thomson, hired by Mr. Winston Churchill for his budgie, noted the ways she treated his pet and him in his last days of life. Towards the end of his life, his bird was always with him, even accompanying him to dinner. Toby never received a reprimand from his owner, but only love and great care.
John F. Kennedy was also a budgie owner
However, Mr. Winston Churchill is not the only statesman to have owned a bird as a pet. In addition to being a lover of dogs and horses, John F. Kennedy also kept several budgies in his house.
These were two Budgie birds, named Bluebell and Marybelle according to data from the John F. Kennedy Presidential Library and museum.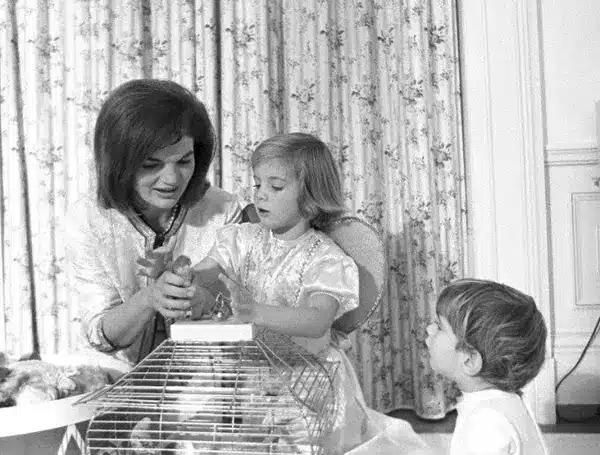 The birds lived in cages, and First Lady Jackie Kennedy played with them with her children John Jr. and Caroline. The kids enjoyed playing with the budgies and spent a lot of time playing with them. When they had to move out of the White House after the assassination of John F. Kennedy, budgies were taken with them.
Neighbors in the Georgetown neighborhood spotted cages covered in pink coatings just before the family arrived.
Not much is known about their birds, Bluebell and Marybelle, which were probably very calm and quiet, unlike their noisy pets Charlie and Pushinka.
Clint Eastwood loved budgies
One of the most famous actors of all time Clint Eastwood was also a huge fan of budgies. This is evidenced by a photograph taken in 1959, in which the actor holds a small bird on his shoulder.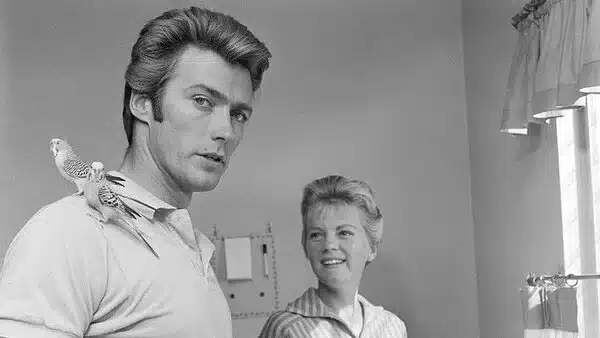 Marilyn Monroe's birds were in love with her
The most beautiful woman of all time and famous actress, Marilyn Monroe, was the owner of two budgies, called Bobo and Clyde. Her acquaintances said Merliyn would summon them and they would land on her shoulder and she would coo and whistle and the birds would kiss her. It has always been said that one of her birds was in love with her.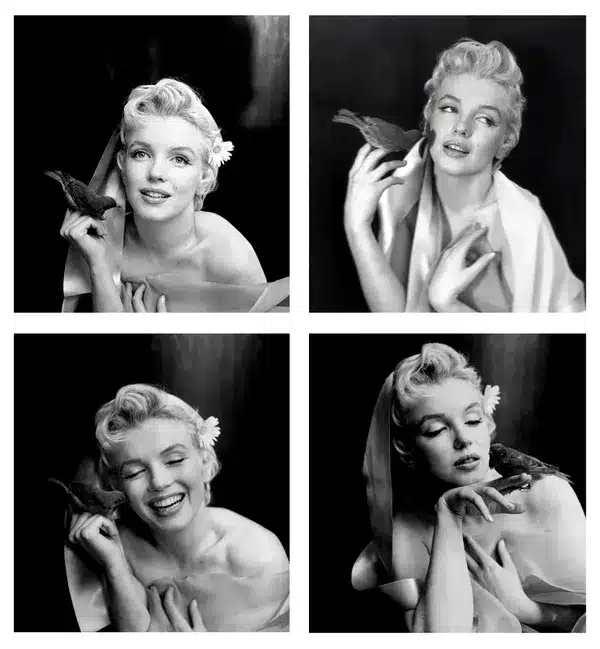 Budgies were donated to the Dalai Lamai
Pocket-sized budgies were donated to the fourteenth Dalai Lamai, or Tenzin Gyatso, by the British, in 1940 when he was enthroned in Lhasa, Tibet. This shows how much these birds were valued back then. Tenzin Gyatso simply enjoyed the presence of these birds, and they were more interesting to him than the gold bar and the ten bags of silver given to him by the British.
Queen Elizabeth had budgies as pets
Budgies are royal birds, as evidenced by the fact that they were owned by the esteemed Queen Elizabeth. The bird was given to Queen Elizabeth as a child, in 1930. The young girl lived at 145 Piccadilly and had the opportunity to play with all her pets, and budgerigars also belonged there.
The queen also started breeding these birds, so much so that in one period they weakened and almost lost the possibility of reproduction because new birds were not introduced into the royal family for a very long time. At one time, the royal family was looking for budgies, females, in exchange for males, but to be of the appropriate breed, to continue the process of reproduction.
Not much is said about her birds, except that it is known that they are one of her biggest interests.
Ashton Kutcher accidentally gave Mila Kunis budgies for Valentine's day
Famous actors, a loving couple, Ashton Kutcher and Mila Kunis also own birds as pets. For Valentine's Day, Asthon accidentally gave away budgies instead of lovebirds. His plan went wrong, but the actress fell in love with birds as much as their children.
On the Ellen DeGeneres show, she said that after she got them, she took the birds to a woman who takes care of the birds, to cut off their nails and cut their feathers, only to realize that they are not lovebirds at all, but budgies.
The owners of the pet shop deceived a loving couple by selling them budgies that are almost several times cheaper birds than lovebirds, and you can get them for almost $ 10.
However, they don't mind not buying lovebirds. Now they have beautiful blue budgies that their kids love to play with.
Britney Spears bought budgies as pets
Singer Britney Spears, known for her exciting and by no means easy life, is also the owner of budgies. She first bought a budgie in 2007, and later acquired two more in 2009.
The singer primarily went to the Pet shop to buy dog food. However, she noticed budgies in the store and decided to buy a pair. She bought two small, yellow birds, and she also bought them their house, a huge white, spacious cage, which was big enough for these birds to play in.
She bought the birds at the California Pet Center in Calabasas, and impressed workers explained to the famous singer how to take care of them. She also asked the workers to make the birds easy to take care of and to be compatible with her family, who are constantly at work.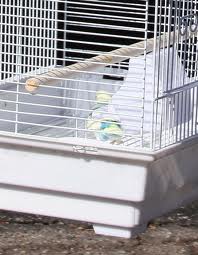 Famous Birds – Budgies
As you can see from the attached, budgies are very popular pets. They were members of many famous families, and this fact proves that they were loved by the royal family as well.
Many people think that birds are uninteresting animals, but from the stories of some of the most famous people in the world, we can see that this is not true. Apart from being very easy to adapt to the environment in which they are, they are very attached to people and are very social birds.
You can train them to do some things but you can also teach them to talk. Then they become even more interesting. Like any animal, they require special care, which is not too difficult to do.
We advise you, if you feel lonely or just want an animal to take care of it, to choose budgies as your pet. They will give you a lot of love if you invest a little effort and love in them.
Recent Posts
link to 10 Odd Budgie Questions - Answered 2023.
"10 Odd Budgie Questions" is a collection of curious and unusual questions about the popular pet bird, the Budgerigar. From their eating habits to their unique abilities, this article will explore...
link to Blue Budgie | How do Budgies Become Blue?
Blue budgie? There is an interesting story behind of most popular blue budgie, how did he become blue? Are blue budgies natural? When we look at the living world on earth, we witness the enormous...