This year was amazing, a lot of good and bad happened… so let's get started. [ Budgies Rewind 2019:My Budgies Story ] I must start with my Cookies birthday wich is in January. My Cookie is 8-year-old Budgies Cutie, and in one month from now will be 9 years old.
The biggest news of this year I got my FIRST TRULY Female budgie from the Market, my Bella, she is saved, If I may say that. She was kept in a really poor condition on a street market. WE HAD to save her and take her with us. A lot of you asked what's with others, why we support that man who keeps these budgies in poor conditions? Well, I don't think we can stop him anyway. It makes me happy knowing she is happy. And You know what? It is better to adopt but If you find that one Budgie you caught an eye on, you get that Budgie! and guess what?
More Budgies! 🙂
Only one week after installing my do it Yourself Budgie nest she surprises us with her gifts for us all. She laid her first eggs, 5 lovely eggs, unfortunately, 5th Budgie didn't make it.
I know I am packed with a bunch of crazy screaming Budgies, I LOVE THEM ALL.
It made me happy when they all grew up, they grow really fast. They need only 30 days from hatching to fly. so hurry up to tame and play with them. Young baby Budgies are the most interesting and playful creatures I know!
The funniest part is that they look all the same, but it is a little different in looks and behavior. and by the way, I already made a video about how to name your Budgie based on their behavior!
That's why my oldest baby Budgie is Nibbler always nibbling, Cutipie is just a cute lovely Budgie that name really suits him, this one is playful and explorer Sunshine and 4th budgie are stubborn not truly tamed, really difficult to tame, as you know not every single budgie are possible to tame, sometimes they need a lot more time to tame.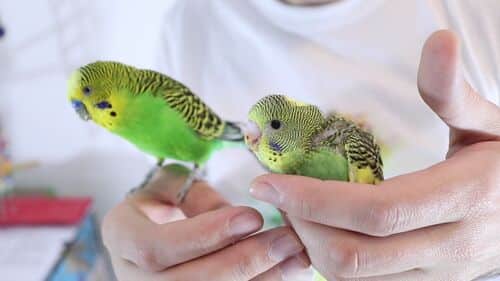 Horrible happened
Only a moment after enjoying with my newborn, new grown baby budgie, Bella surprises me with a new set of budgie eggs… well, I don't know what to say, some kind Budgie frenzy laying egg marathon. Bella, please take it, easy girl. She caught me unprepared, while I was thinking to remove Budgie nest box she laid her first egg, only a few days later there were 7 new Budgie eggs. congratulations to us all.
After one egg hatched, a few days after that…. unimaginable happened.
ALL GONE! NO MORE Budgie eggs, 6 budgie eggs, and one baby budgie killed.

I DID NOT EXPECT THIS TO HAPPEN, EVER!
I know Mr. Snowflake, Sunny or Biscuit WOULD NOT EVER HARM any of the Budgies…
I know by watching their behavior with the rest of the flock.
Then I removed the Nest box, maybe in the future when I breed budgies, I'll have more experience unfortunately in a good and bad way.
I made a Glass Budgie Cage
They got a bigger space for a happy living of my flock,.Please Watch how I made this glass Cage, it was my greatest project ever!
It was truly a great Budgie year and even more Budgie experience with first time breeding Budgies, I hope you learned more with me and from my experience.
Sending love from my great Budgie flock for you no matter where you are. Stay happy and healthy.
Recent Posts
link to Blue Budgie | How do Budgies Become Blue?
Blue budgie? There is an interesting story behind of most popular blue budgie, how did he become blue? Are blue budgies natural? When we look at the living world on earth, we witness the enormous...
link to Choose a Budgie Bird from the Pet Store
You can choose your budgie as a pet in every pet shop. We recommend buying budgies from a well-known seller or breeder. When you choose a pet for yourself, you want it to be the most beautiful and...