Budgie Breeding Box or Nesting Box perfect size is 30 x 20 x 20 cm so inches that would be 12 inches x 7.9 inches.
The opening should be positioned high up in one corner of the nest box, preferably at the furthest end from where the hen will lay her eggs. The size of the opening should be 50mm (2in) diameter works great for a budgie.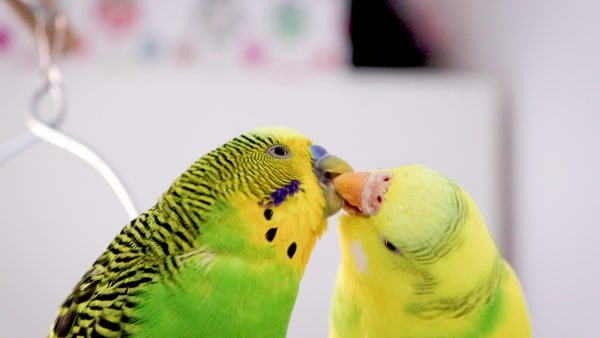 They show signs of affection to their flockmates by preening or feeding one another.
Budgerigars feed one another by eating the seeds themselves and then regurgitating it into their flockmate's mouth.
Care should be taken that birds used for breeding are active, healthy and unrelated. Breeding box should be cleaned between uses.
Would you like to know how to breed Budgies?
Breeding budgies is a very interesting thing to do but some things as to be considered and put in place for successful breeding.
After getting your breeding pair it is important to inspect them. They will need to be healthy, over 10 months, and well bonded. Bonded means they are a mating pair, so display mating behavior such as holding beaks.
If they are from the same family, it is best to split them up and introducing another make or female to breed from. 
Once you have decided to breed, you need to provide your birds with a breeding box, making sure it meets the requirements of the female. 
There are many types of breeding box so it is a matter of personal taste; always make sure they have a hinged top so you can check the eggs and chicks when hatched. 
Read more here
Recent Posts
link to Blue Budgie | How do Budgies Become Blue?
Blue budgie? There is an interesting story behind of most popular blue budgie, how did he become blue? Are blue budgies natural? When we look at the living world on earth, we witness the enormous...
link to Choose a Budgie Bird from the Pet Store
You can choose your budgie as a pet in every pet shop. We recommend buying budgies from a well-known seller or breeder. When you choose a pet for yourself, you want it to be the most beautiful and...