Let's talk about normal budgie behaviors that usually concern people who are not that familiar with budgies. There is nothing to worry about unless…
Budgies are hands down the cutest birds that you can ever have. They are smart, innocent, and happy generally. You will never feel sad or alone in your house if you have a budgie as your company. Their personality is so lively and warm that they are considered as the most popular birds in the world. If you have decided to take a budgie home with you for the first time you must be interested in knowing some common and normal budgie behavior. Because the people who are new to parenting budgies might not get what they are doing or take everything they do so seriously. So, it can happen that your budgie is displaying very normal budgie behavior and you might comprehend it differently.
Budgies Love Bathing
Many animals and birds do not like taking a bath, but budgies are opposite to that. They show extreme enthusiasm while bathing. If you forget to clean them once you don't have to worry because they will do it themselves. They even start playing with the water you put in their cage for drinking so make sure it's not that cold. Budgies at least require a bath four times a week. So, if you see your budgie bathing more often then don't get worried because that's completely normal.
Burying face in feathers
Normally animals and birds hide their faces in their bodies when they are sleepy or tired. The same is the case with budgies, they do it because they like to rest their head on their back and soft feathers. You can call it a quick power nap. This behavior is completely normal and their fluffy feathers also help to retain the body heat. Budgies love playing hide and seek as well.
They will try to hide behind the objects for no reason. It is all part of their game and fun. Many people comprehend it as something budgies do when they are sick or depressed but that's not true.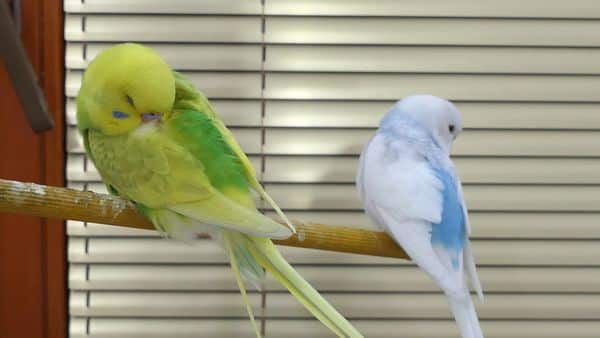 Yawning and Sleeping
Budgies yawn a lot when they are about to sleep or when they have played too much in the day. Yawning patterns in budgies are very similar to humans because they yawn when they see other budgies yawning. And yawning mostly put them to sleep eventually. When budgies are sleeping, they look no less than a sleeping beauty. Know that budgies need at least 10 hours of sleep in a day so if you see your budgie sleeping for several hours in a row please don't panic. Sleeping for long hours in budgies just like babies is quite normal and is very healthy.
Eating Vegetables, Millets, Flowers, and Pellets
Some budgies love eating vegetables like cauliflower, cucumber, and onions. And some budgies prefer eating vegetables like peas, carrots, and beans. So, if you have seen some other budgie eating all sorts of vegetables that doesn't mean your budgie will eat them all too. Budgies are selective with vegetables and do not like every vegetable equally. Some budgies love eating edible flowers like sunflower, tulips, and lilac and that's completely normal. You should not care that much about unless they are eating flowers with thorns on them.
Budgies love eating seeds and millets to the point where if you will create a mountain of millets for them, they will eat it. Millets are good for them to grow because they have a high calorific value. But make sure you are giving them food in variation. Some budgies love to eat pellets as well and that is a healthier option as compared to seed-based food. But that doesn't mean you should cut off millets completely instead try giving them a mixture of mixed food every day to keep them healthy, active, and happy.
Perching on human fingers
When you have a new pet budgie you must not force him to perch on your fingers mainly because he is new to your home. And if you force him too much, he will bite you because biting is a common behavior when your budgie is nervous. And then you will start worrying about that. So, avoid the discomfort let your bird fully adjust to his new environment and home.
Studies have shown that your budgie will perch on your finger only if he likes you. So, give him some time to adjust and then start training him to perch on your fingers. Never shout at your birds and always be nice to them.
Chirping and Singing
Budgies are very moody when it comes to singing. If they are happy and in a good mood, they will sing in their cute voice but when they are bored or tired, they will not sing at all. Some budgies chirp all day and all night. So, if your bird is making loud noises at night it is normal. Most of the birds including budgies, parrots, and sparrows love singing in the morning. They must like the sun very much. Budgies not only like singing they also love listening to calming music. You can play soft piano or violin and you Budgies will love it. They might sing along.
Budgie Preening Compleatly NORMAL BUDGIE BEHAVIOUR
Have you ever thought why your Budgie preens? Many people think that Budgies are hurting themselves that way but that's not true. Preening is a completely normal budgie behavior as it involves so many great things like oiling of feathers. Birds like budgies have preening glands in that that produce oil when they preen. According to some studies, Budgies and other parakeets like birds tend to get attacked by complex bacteria very easily. Those bacteria hide in their feathers. But because nature has put that tendency in budgies to preen, they remove all the dangerous bacteria by that.
Not only that, but Budgies also preen because they like grooming themselves. They like to put each feather in its place. It is very satisfying to watch and can take them an hour or more to do. Their beak removes everything that comes in between their grooming i.e. dirt or any objects stick to feathers.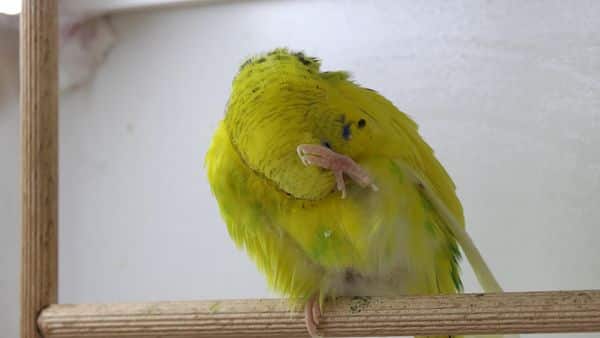 Budgies love, noise-making, and body movements
Budgies are not loved birds, but they are quite loving and social nature. And you will have an idea about that once you get them. They will go out of their way to express the love they have for you. And will start whistling when they see you or singing when you're busy and not giving them attention. Budgies can do certain body movements to impress you or grab your attention. These body movements include purring as well that is normally seen in cats, but budgies do it too.
Some people are worried about constant noise making by their budgies but that's a normal behavior they show only when they are happy in your home. But remember they will start doing all of that the minute they come to your home. They will take some time to settle down and you should give them that time.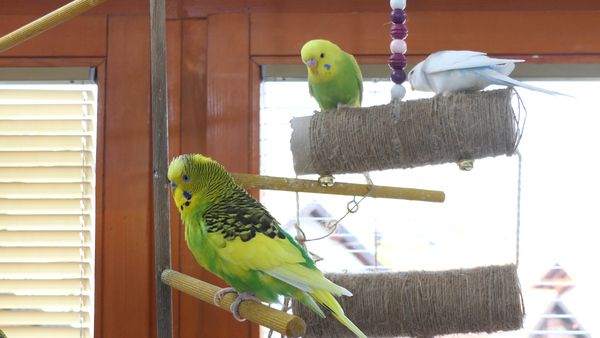 Exercising, stretching, and feather shaking
Have you ever seen your bird stretch its leg and exercise? Well, at least someone in your house wants to stay fit. Budgies do exercise when they are sitting or standing in the same posture for too long. They do it by flying in their cage to exercise their wings and that might concern you. Because you may think that they don't want to live with you but that's not the case.
Like most birds, budgies shake their feathers as well. And when they do it a bunch of feathers may fall from their body.
And that is again very normal. Flapping or shaking their feathers ease them out and you can think of it as wearing some comfortable clothes before going to sleep because otherwise, you won't be able to sleep well. Budgies prefer straight wings instead of ruffled wings because ruffled wings are uncomfortable. So, if you see your bird shaking its feathers after preening or before sleeping know that it is a normal budgie behavior.
Head bobbing and staring
Head bobbing in budgies is a normal behavioral character. Most of the budgies do that to impress their mating partners so it's more common in male budgies because they are quick to make their first move. However, females do head bob too very often. Did you know that your budgie and other birds that sing can respond to musical rhythms? Most of the time when your budgie does a head bob, it is a response to some rhythmic activity.
There is nothing to worry about the head bob of your budgie because he is doing it to respond to patterns.
Another common phenomenon in budgies is staring. You might wonder why your budgie keeps staring at you. What if I tell you that they love you? You must be very happy knowing that. You bird stares at you because they want to play with you or want you to show affection by petting them. So, staring too is normal, and when your birds stare at something it means that they want it.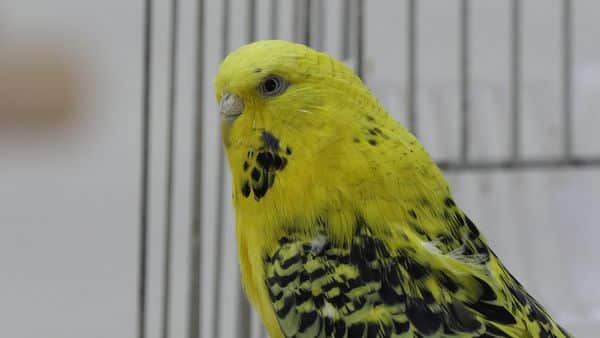 Scratching and petting
Most budgies scratch themselves multiple times in a day and it is not because they are itchy, they are just cleaning themselves. Some budgies will allow you to pat them on the head or scratch them but some budgies when you try to scratch them, they won't allow that. Before scratching or petting your budgies, you need to make sure that they allow you to do that. And they are not stopping you because they don't like you or they have some behavioral problems. They are just nervous.
They are doing that because they are not used to being scratched by anyone other than themselves. And you will have to keep trying to make that bond with your bird. At first, they might hesitate but slowly they will allow you to pat them. You will have to be patient and understand that bonding may take some time but once you have that bond with your budgie, you'll know how much it is worth it.
Every bird Enjoy Playing With Toys
A common fact about Budgies is that they love toys and can play with them all day long. The type of toys they love the most are chewable or rubber toys. The sound-making objects also captivate these parakeets and some people hang small bells in the cages of their budgies to keep them entertained. Budgies play with their toys to the point where they destroy them completely. You might perceive it as anger but that is normal budgie behavior. So, you need to gift your budgie a new toy every month and surprise them because they love surprises and new toys. And they appreciate the effort so much and get so excited and happy that you can see it in their body language.
On the other hand, some budgies may take some time to get used to toys because they are new to touching objects and it may scare them a little in the beginning. But as they say, success lies in never giving up and keep trying.
Being precious and winsome
Last but not least, the most common behavior they show is being unapologetically cute and precious. When you go to a pet store and you saw budgies there, it will be extremely hard for you to resist their innocence and beauty. That is one of the reasons for budgies being one of the most common and adorable pets.
They will make sure that your home is filled with laughter and joy. And when you are sad, they will kiss you and dance for you. Who does that? They will sing for you and keep talking to you. And they are so fun and playful that they will start repeating whatever you say to them. And eventually, you will fall in love with their sweet nature.
So, these are all the normal budgie behaviors that usually concern people who are not that familiar with budgies. But there is nothing to worry about unless your budgie starts displaying behaviors other than that.
Recent Posts
link to Blue Budgie | How do Budgies Become Blue?
Blue budgie? There is an interesting story behind of most popular blue budgie, how did he become blue? Are blue budgies natural? When we look at the living world on earth, we witness the enormous...
link to Choose a Budgie Bird from the Pet Store
You can choose your budgie as a pet in every pet shop. We recommend buying budgies from a well-known seller or breeder. When you choose a pet for yourself, you want it to be the most beautiful and...